Can you explain how the MSX2 sound chip works? I was listening to music from Metal Gear 2 and it's got some great sounds.
xitebike3000
Sure! Metal Gear 2: Solid Snake on the MSX2 has one of my favorite computer game soundtracks from the 8-bit era. I'm not as familiar with MSX audio as I am with the NES, but I know a little bit about the soundchips they used and the general limitations they had.
A brief introduction:
MSX machines are a family of home computers from the early '80s. Part of the '8-bit' computer market, MSX competed with computers like the Commodore 64, Atari 8-bit, and ZX Spectrum. They were popular in parts of Asia, Europe, and South America, but mostly unknown in the United States. You can read more about the MSX here and on wikipedia.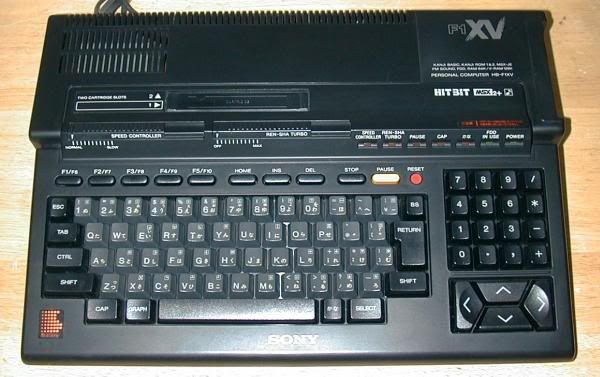 (an MSX2+ [image source]) 
For audio, the MSX2 primarily used the Yamaha YM2149 programmable sound generator. It is a variant of the General Instrument AY-3-8910, which was used in many other systems like the Intellivision, ZX Spectrum, Amstrad CPC, and more. It is also similar to the Texas Instruments SN76489, the competing chip that was used in the Sega Master System.
This sound chip has three channels of sound, comprised of square waves and a noise generator (you can read an incredibly in-depth analysis here). This video demonstrates a youtube user's favorite MSX music made with this PSG audio:
But Metal Gear 2: Solid Snake used a sound expansion cartridge for more advanced audio. Known as MSX-AUDIO, the cartridge contained the Yamaha Y8950, a sound chip that offered 9 channels of FM sound (or 6 if FM percussion is being used), and included an 8-bit ADPCM sampler. If you wanted to compare the audio to another system, it's kind of like a more primitive Sega Genesis.
Three different cartridges for MSX-AUDIO were made by Philips, Toshiba, and Panasonic. Here's what one of them looked like: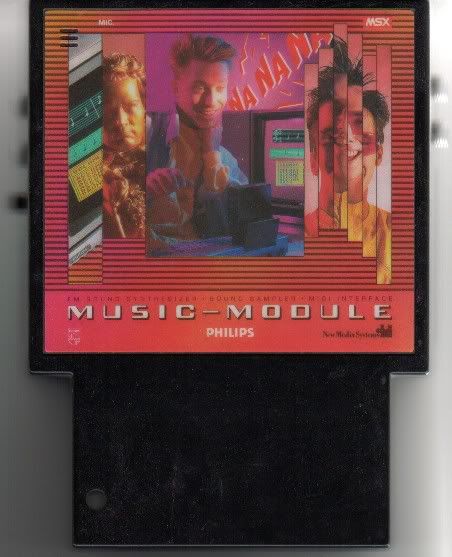 At the moment I'm having difficulty finding a complete list of games that used MSX-AUDIO in their soundtracks, but I know that Konami had several, including Metal Gear 2: Solid Snake.
Something I like a lot about the Metal Gear 2 soundtrack is how it embraces the synthesizer aesthetic. The introduction to MG2 has one of the most cinematic-like openings of any 8-bit game I've seen, and the music has elements of '80s horror / sci-fi themes. I'm reminded of music by John Carpenter (Halloween, Escape from New York, Assault on Precinct 13) at moments throughout MG2, reinterpreted with a Konami-esque sound.
There was also another sound add-on for the MSX known as MSX-MUSIC, which used the Yamaha YM2413 sound chip. It also offered 9 (or 6+ drums) channels of FM sound, but it was more limited than MSX-AUDIO because it allowed only one customizable voice at a time, with the rest being presets (more information here). MSX-Music was a built-in feature on some of the later MSX models. Fans of the Sega Master System will recognize the sound as the same FM chip used in some Master System games. 
One of my favorite MSX-Music soundtracks I've heard is the MSX port of Final Fantasy. I generally expect console-to-computer ports from the '80s to not do the best job converting the music, but I actually like the MSX version of Final Fantasy more than the original Famicom/ NES version: